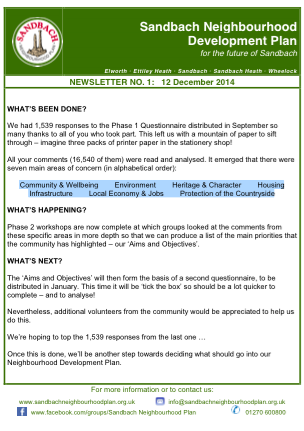 WHAT'S BEEN DONE?
We had 1,539 responses to the Phase 1 Questionnaire distributed in September so many thanks to all of you who took part. This left us with a mountain of paper to sift through – imagine three packs of printer paper in the stationery shop!
All your comments (16,540 of them) were read and analysed. It emerged that there were six main areas of concern (in alphabetical order):
Community & Wellbeing
Environment Heritage & Character,
Housing,
Infrastructure,
Local Economy & Jobs
Protection of the Countryside
WHAT'S HAPPENING?
Phase 2 workshops are now complete at which groups looked at the comments from these specific areas in more depth so that we can produce a list of the main priorities that the community has highlighted – our 'Aims and Objectives'.
WHAT'S NEXT?
The 'Aims and Objectives' will then form the basis of a second questionnaire, to be distributed in January. This time it will be 'tick the box' so should be a lot quicker to complete – and to analyse!
Nevertheless, additional volunteers from the community would be appreciated to help us do this.
We're hoping to top the 1,539 responses from the last one …
Once this is done, we'll be another step towards deciding what should go into our Neighbourhood Development Plan.
Download Here